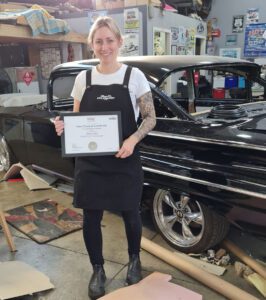 Congratulations to our shop manager Bobbi-jo who is forever learning and sharing her passion. She has just completed another certificate in Industrial Textile Fabrication – Level 3.
The training programme included a mix of practical training and assessment, undertaken in the workplace, and eLearning, allowing her to complete theory elements of the programme at her own pace. She had access to videos, learning activities and course assessments.

The training programme will lead to the following qualification outcomes:
Comply with organisational health and safety Standard Operating Procedures (SOPs)
Contribute to, and communicate in, a work team in the industrial textiles trade environment.
Prepare, adjust and maintain textile fabrication machines and ancillary equipment.
Apply basic knowledge of materials and hardware used in industrial textile fabrication.
Apply knowledge of industrial textile fabrication techniques to create fabricated textile items as directed.